AutomatioN & I.T
In addition to the supply of certified mechanical assemblies under pressure, it is the complete design of pilots that we offer. Capable of translating the functional description of our customers into operational reality, we can also be a driving force in the piloting of their processes and information technologies.
Thus, beyond our long expertise in the world of instrumentation, we have mastery of automatisms based on industrial programmable logic controllers (Schneider Electric, SIEMENS, Parker among others, to the IEC61131-3 standard). The vast majority of our equipment is also equipped with a high definition industrial touch panel, in order to bring user-friendliness and functionalities to our customers' operators. These equipments also ensure the piloting because they have a programmable logic unit, able to manage inputs/outputs and regulators. They are equipped with functions for recording and graphical presentation of measurements and are also communicating (via VPN), which allows data retrieval via Ethernet or USB key.
Some of our more complex drivers integrate a Panel PC based on Windows Embedded, an industrial supervision such as WinCC or ProcessViewer or a PC solution based on LabVIEW. All these developments are carried out internally by our team of qualified and certified automation and IT specialists. We also have the skills to develop tools and functions with MS-Visual Studio on the .NET platform (C#, C++).
Our basic piloting includes the following functionalities:
Automatic and/or manual commands in accordance with the specifications. Advanced application configuration (via configuration files and dedicated settings pages) Recording of acquisitions and presentations of multi-scale curves Multi-language interface (with editable dictionary for PC applications) Event logging (log file) and time-stamped history of faults
On request we also implement the following options:
Sequencers and scripts
SMS/email alert
Communications to remote TCP/UDP PCs, DB2 & SQL database connection
Integration into larger installations via OPC Client-Server.
Writing illustrated reports in PDF, Integration of a PDF reader for context-sensitive help.
User-friendliness of our systems
We know from experience that researchers and laboratory technicians move from one manipulation to another and that their first concern is their experimentation. This is why we make every effort to facilitate the use of our equipment through an interface that is as clear as it is complete: instructions, measurements, units and controls are thus easily identifiable without ambiguity.
In addition, our drivers are by definition used to define or validate a process and must offer a wide range of manual adjustments and interventions, without sacrificing the comfort of automation.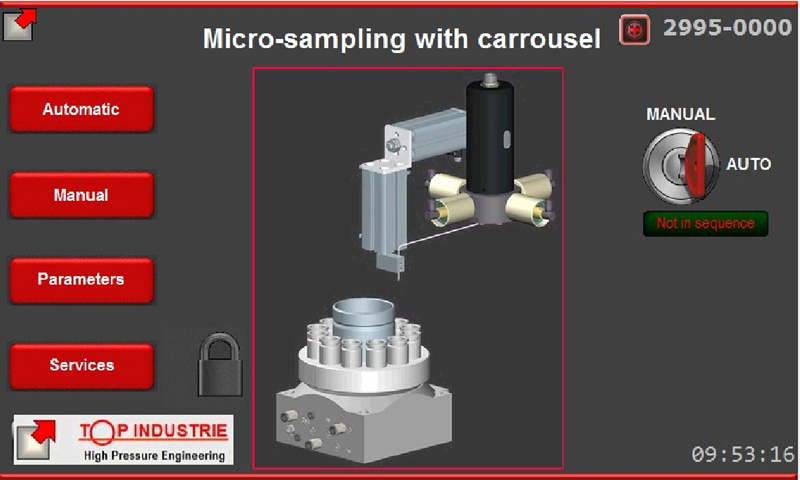 Acquisition and presentation of measurements
Our instrumentation components allow us to perform high resolution measurements, sometimes up to 19bits. We generally opt for digital sensors in order to benefit from a better accuracy and indications of overflow or breakage. We try to obtain the best topicality in our measurements, it is in particular the case of our acquisitions of displacement or deformation.
Simultaneously, we record in a file while we present the curves of the measurements that we can select one by one or according to a selection of recipes. The recordings are in CSV format that can be imported into EXCEL or other spreadsheets. We enrich the functionalities of LabVIEW with cursors and various coordinate systems for a better interpretation of the results.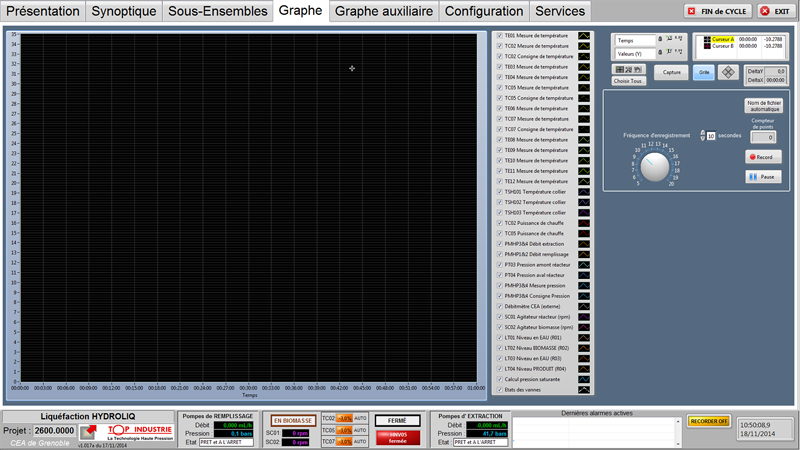 Sequencers and other automation
Controllers generally include a sequencing capability. Our installations synchronize several regulations between them, either by means of a centralized multi-component sequencer that manages all the components step by step, or by generating several sequencers that will be loaded in each component and synchronized between them.
We have realized sequences up to 1000 steps and more than 10 devices, prepared internally or on EXCEL (integrity check during import.
Sometimes the establishment of an ordered list of actions is not enough, so we offer the possibility to edit the conditions of passage between phases (values and comparison operators). Finally we offer a scripting possibility in the most complex cases.
Report edition and PDF file integration
Sometimes our equipment is used to validate parts or assemblies. One of the essential functions is the edition of a test report. We then produce a PDF document, which can include tables, graphs, customizable comments and various elements from measurements or databases.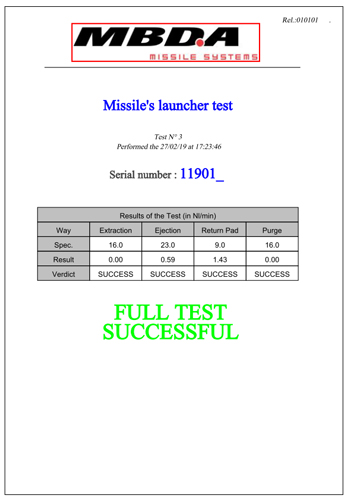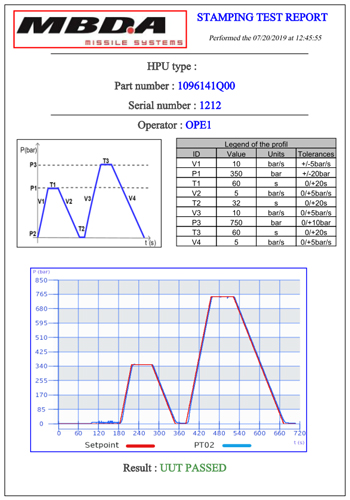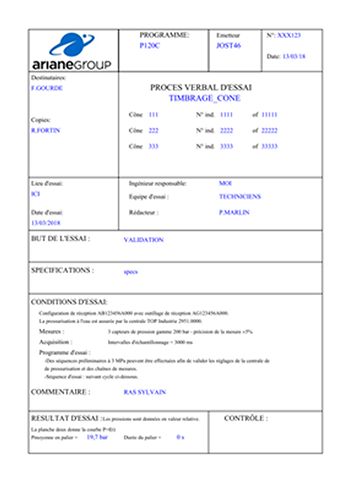 On the other hand, from our PC software we can call and integrate a specific page of an external PDF document according to the chosen context (occurrence of a fault, page of electrical diagram or exploded mechanical assembly).
Communication, connections and integration within larger laboratories
Our pilots are complete and autonomous, but sometimes their versatility or any other characteristic, encourages our customers to integrate them within larger or more versatile experiments. This type of application has made us develop M2M communications according to various protocols such as TCP/IP (UDP + TCP), Modbus, Profibus, Profinet, OPC-UA ... thanks to which we exchange measurements, states and commands.