Renewable energy H2
Hydrogene
Top Industrie actively participates in the development of renewable energies and the generalization of hydrogen as a fuel with the construction of hydrogen stations.
In June 2018, Nicolas Hulot launched the hydrogen deployment plan for energy transition with a goal of 5,000 hydrogen vehicles in circulation by 2023 and the installation of 100 recharging stations for these vehicles.
Top Industrie has developed a modular range of hydrogen distribution stations adapted to each need: the BOX 350 and the BOX 700. They are supplied by frames of pressurized hydrogen cylinders, allowing the delivery of 2 kg of hydrogen per hour, at 350 bar and 700 bar. Top Industrie stations supply all types of mobility: captive fleets (utility vehicles, forklifts), public transport (buses), city cars (vehicles for private individuals) with hydrogen.
Principle of the distribution station :
Depending on the need and the chosen configuration, the Top Industrie station allows vehicles to be refueled either at 350 bar, 700 bar or both (two different guns). The choice or not of a storage system will allow the fast or slow filling of the vehicles.
Fast filling is carried out from storage cylinders previously loaded and maintained under pressure. A storage of 4 kg at 350 bar of H2 allows to refuel 2 cars in a row in a few minutes.
Slow filling is carried out directly by the booster and eliminates the cost of storage. The flow rate of the booster is 2 kg/hour and allows a vehicle to be refilled at 350 bar in 1 hour or at 700 bar in 2.5 hours.
To carry out the filling process, the operator connects and then locks the station's gun to the vehicle's tank before starting the filling procedure. These filling protocols have been defined to control the physical phenomena related to the rapid transfer of pressurized gas (heating of the gas which can damage the internal liner of the tank). Filling stops automatically and a signal indicates to the operator that he can unlock the valve.
Air compressor
H2 storage bottles
Valve panel and H2 compressor
H2 dispensing gun for light vehicles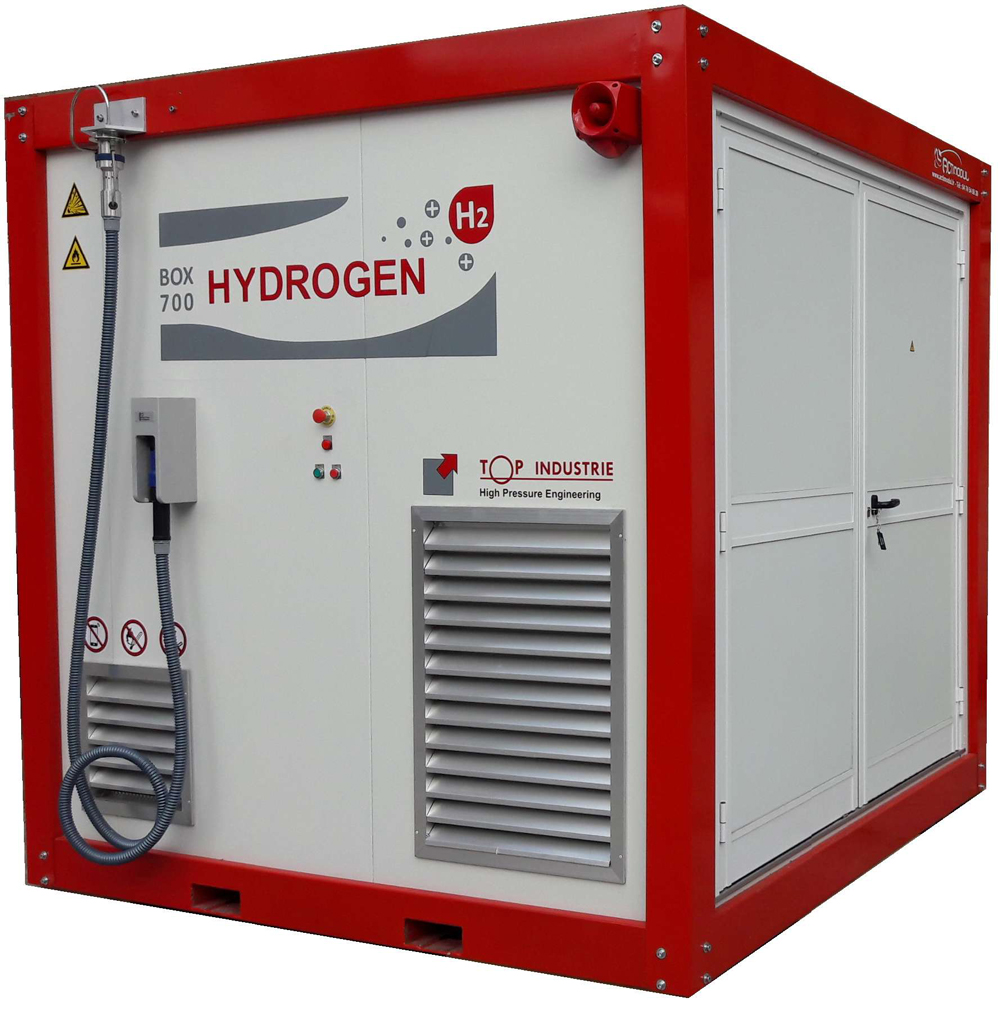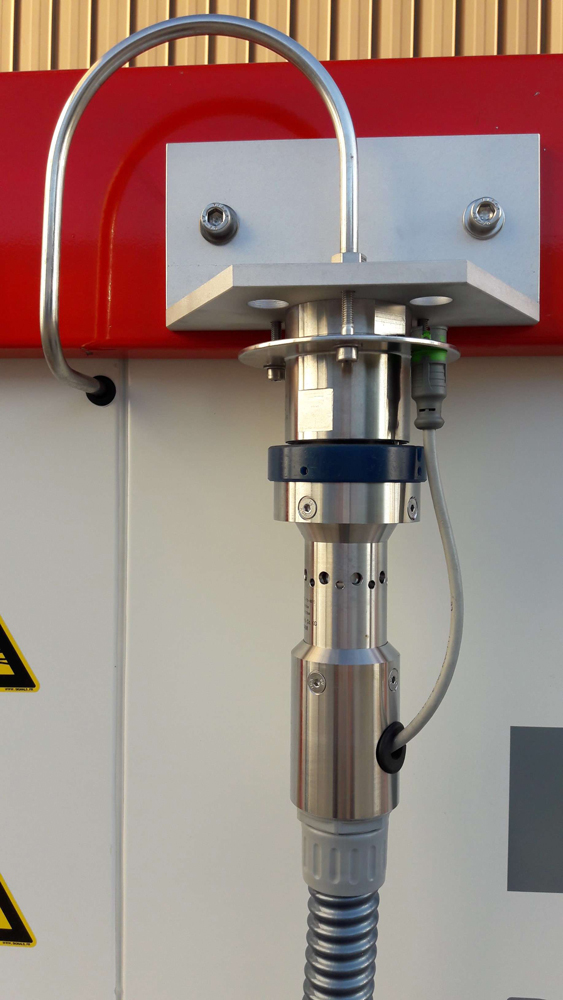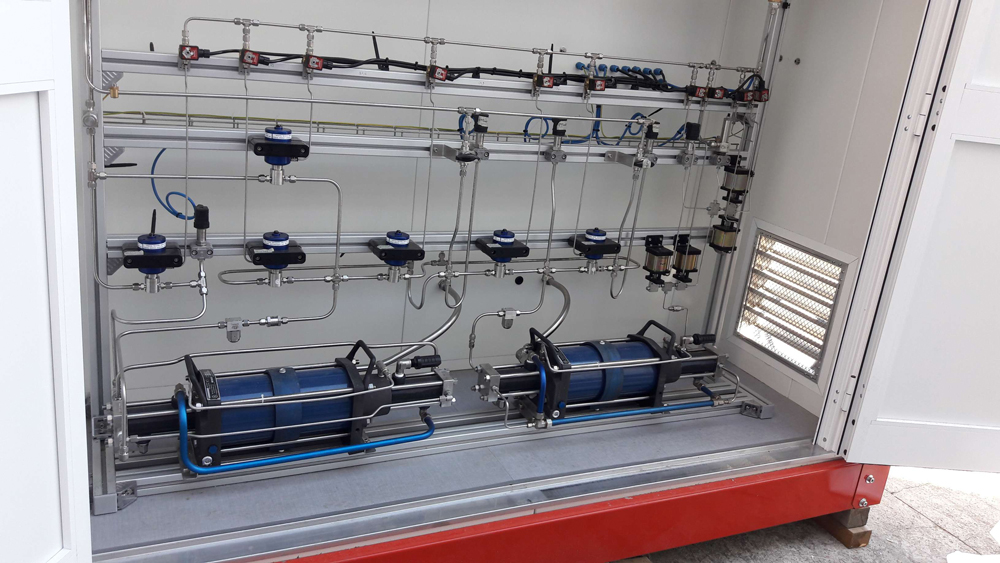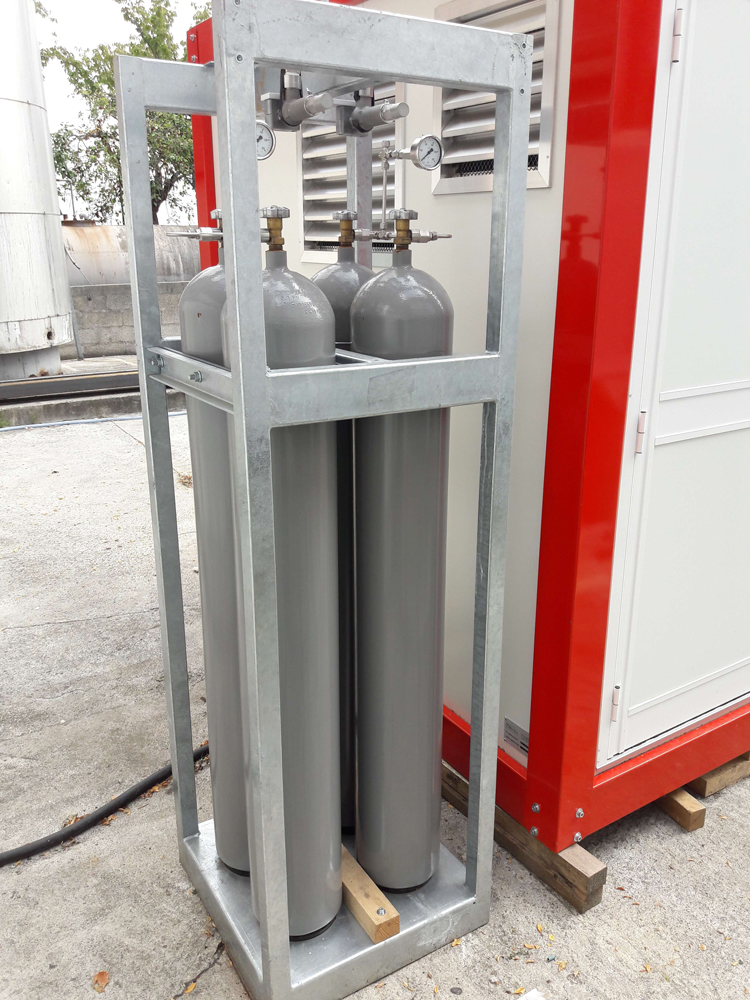 Hydrogen Compressor Project
Top Industrie has launched a new innovative H2 compressor development project, soon on our website.